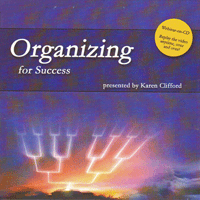 Organizing for Success - webinar-on-CD-ROM
Regular price
$12.95
Sale price
$7.00
---
Organizing for Success - webinar-on-CD-ROM; by Karen Clifford; a live webinar in 2011 ; 1 hour 58 minutes; CD; Item # LEGweb3

Have you ever found a relative sharing erroneous data on your favorite research line? You're willing to take the time to politely point out those errors (to prevent others from being misled), but the complexity of how to explain your years of research settles upon your brain like a fog. You rally to the attempt, only to be thwarted by an inability to quickly locate the key supporting documents. After hours of effort, a numbing paralysis sets in at the realization that in order to adequately explain your conclusions, you will need to reconstruct your research process. The result thousands of individual family relationships that could be explained just STOP, or end up in heaps of unsubstantiated opinion files on the Internet. People have asked me over the years, how I can research hundreds of families in the same week, return to a specific spot where I left off fifteen years ago on a client's line, and in a short review period take off again. The best way to prevent a wasteful repetition of work is by consistently using an organizational system that weaves together paper files, research notes, to do lists, evidence located, and conclusions reached. This incredibly simple, yet very successful organizational system has been successfully used by thousands of genealogists. With this system, the essential evidence and its supportive explanations are located in a safe retrievable place, available for constant re-examination. This frees the mind to focus on a new hypothesis, to creatively compile a life-time of work, or to calmly summarize your work for others. In fact, this organizational system makes the entire research process more efficient.
This class was presented to a live webinar (online seminar) audience on August 3, 2011. 1 hour 58 minutes.
Viewers' comments:
Absolutely fascinating! Wish Karen had been my professor in college. Loved the way she systematically explained the information. I plan to go to the site and review it often. Thank you for a wonderful webinar with great detail and excellent ideas.
All the Webinars have been great, but this one really helped me get a handle on how to organize.
Besides being informtional, it was also very inspiring! Thanks!!!
Fantastic! Very well organized (duh!) and the information found on the weblinks discussed looks just as priceless. Thank so much, Karen!!
Great system to use with Legacy. I am extracting an entire town with about 5 main names for the entire town. I was struggling with alphabetical surname or locality filing as the file grew. This is the perfect solution! Can't wait to start actually using those MRINS! Thanks to Karen for sharing this wonderful system.
I like that fact that she related the webinar directly to examples using Legacy.
Karen Clifford has a wonderful knack for laying things out in a way that makes them easy to understand.
This webinar has made me feel excited to get organized and stay that way. Thank you!
Pick up some practical tips to add to my personal system of 50+ years. It's never to late to teach an old researcher new tricks.
About the author:
Karen Clifford develops and teaches multiple online genealogy courses at colleges in California (www.mpc.edu) and Utah (www.slcc.edu). She is an Accredited Genealogist® Professional and a Fellow of the Utah Genealogical Association. She has been President/CEO of Genealogy Research Associates (www.GRAonline.com) (a California corporation with offices in Utah) since 1997. Her years of professional research work lead to authoring college textbooks and do-it-yourself guidebooks covering both traditional and electronic genealogy research including several books. She was the founding President of the Monterey County Genealogy Society, a Director of the Monterey California Family History Center, President of the Utah Genealogical Association, a Vice President of the Federation of Genealogical Societies, and a Vice Chair of the International Commission for the Accreditation of Professional Genealogist (ICAPGen) where she continues to oversee Test Development and Test Quality Control.
System Requirements: PC or Mac with Windows installed (using Boot Camp, Parallels, etc.). Windows XP or higher, CD-Rom drive, speakers, Adobe Reader to view handouts, Internet connection to download handouts.